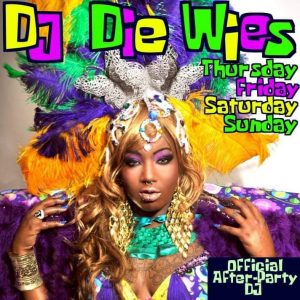 The afterparties this year will feature multiple DJs who will alternate/revolve while tantalizing projections dazzle our guests in an ALL NEW PARTY SPACE!! THE FRENCH QUARTER, located on the 2nd floor above the nightly showcase theatre.
WHERE: French Quarter
TICKET INFO: Included with BHoF Weekender ticket
Thursday, June 2: Movers, Shakers, & Innovators Afterparty
11 p.m. – 2 a.m.
Our back to back sets from DJs Momotaro & Die Wies will keep the dance floor grooving all night. First drink on us!
Friday, June 3: Titans of Tease Afterparty
11 p.m. – 2 a.m.
Our rotating cast of DJs Momotaro, Die Wies plus a special guest appearance by DJ Livv vs Frankie Ficticious will keep the dance floor grooving all night. First drink on us!
Saturday, June 4: Tournament of Tease Afterparty
12:30 a.m. – 4 a.m.
The back to back excellence of DJs Die Wies & Seraphina Wilder will keep the dance floor grooving all night. First drink on us!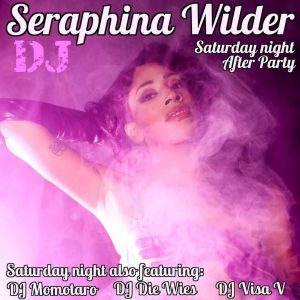 DJ Momotaro
Taro Baugham (DJ Momotaro) has been accumulating vinyl records for as long as he can remember. He has DJed for all types of events from underground theme parties to major corporate music festivals and prides himself on being musically adaptable to just about any situation. From New York via Los Angeles, Taro has been spinning music for over two decades, specializing in funk & soul, rhythm & blues, exotica, 60's garage, euro go-go, disco, rock, 80's, 90's, old school, current, and party music of nearly every era.
He has DJed in New York City establishments such as The Limelight, The Roxy, Highline Ballroom, The Supper Club, Webster Hall, Le Poisson Rouge, Brooklyn Bowl, Element, The Bell House, Studio B and Galapagos Art Space, among many, many others.
Taro has had multiple residencies including Royal Palms Shuffleboard Club, Last Exit, Royale, Bar 4, The Atlantic Antic, Dreamland Roller Rink (Prospect Park, Industry City and City Point), and The Slipper Room where he has been the Friday night DJ since 2003.
Taro has DJed weddings since 2003 and was featured in the Winter 2008-9 issue of New York Weddings Magazine.
DJ Die Wies
DJ Die Wies is a freeflow DJ, spinning in the vein of trap hiphop, and urban club bangers, while adding her own style and pop culture humor. She loves to throw in the occasional Saturday morning cartoon theme song to dip the audience's toes in nostalgia and childlike playfulness. Always digging to discover new artists, finding hidden gems and sampling the unexpected, Sarge's main passion is connecting people and cultures through music. From Spain to the American South to Copenhagen to Camden Town to the Burlesque Hall of Fame in Vegas, she has a musical timeline map connecting the places she's been.
Though she still loves to travel and is a hired gun anywhere in the world, now you can mostly find DJ Die Wies in the Bay Area at venues and events like The Stud, The Great Northern, 620 Jones, SF Pride, The SF Queer Nightlife Fund, and Jolene's. She is also a resident DJ for WomanopolyLV the third Thursday of every month in Las Vegas!
DJs Frankie Fictitious and Livv
Get yo A$$ to the Friday night BHoF After Party to experience our special guest DJ Duo Frankie Fictitious and Livv!! They will empower the groove with their mix of our favorite noise. Our new format will start the night with our revolving DJs: Momotaro and Sgt Die Wies… But at the top of the Friday night party this powerhouse will shake the windows to the walls, and set the roof on fire!!
Don't miss these exotic Misses and their electric kisses!!!
DJ Seraphina Wilder
She is known for her ethereal, sizzling, and unforgettable performances. Seraphina Wilde, the heavenly angel with a sinful allure, has performed all throughout the country in various shows and festivals. Audiences are entranced by her leggy stature, doll-like eyes and gracefully sexy movement.
The statuesque stunner started in local nightclubs, dedicating herself over the years to innovating and perfecting her one-of-a-kind acts that span across all genres of burlesque; whether it be classic, neo or virtual. Seraphina brings the heat through a yearning, longing style that gives audience a fever for more. She has DJ'd for Burlycon, VHOF, private parties and many more. Her DJ sets strive to bring out your wild side!